Cibolo Creek Ranch owner recalls Scalia's last hours in Texas
John MacCormack | on
MARFA — A first-time guest to the Cibolo Creek Ranch, U.S. Supreme Court Justice Antonin Scalia was animated and engaged during dinner Friday night, as one of three dozen invitees to an event that had nothing to do with law or politics, according to the ranch owner.
Just hours later, he would be found dead of sapparent natural causes, which media outlets were reporting Sunday was a heart attack.
"He was seated near me and I had a chance to observe him. He was very entertaining. But about 9 p.m. he said, 'it's been a long day and a long week, I want to get some sleep," recalled Houston businessman John Poindexter, who owns the 30,000-acre luxury ranch.
When Poindexter tried to awaken Scalia about 8:30 the next morning, the judge's door was locked and he did not answer. Three hours later, Poindexter returned after an outing, with a friend of Scalia who had come from Washington with him.
RELATED: 11 things to know about the death of Supreme Court Justice Antonin Scalia — and what happens next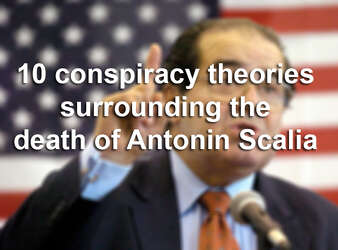 Photo: Photo Illustration
"He was lying very restfully. It looked like he had not quite awakened from a nap," he said.
Scalia,79, did not have a pulse and his body was cold, and after consulting with a doctor at a hospital in Alpine, Poindexter concluded resuscitation would have been futile, He then contacted federal authorities, at first encountering a series of answering services because he was calling on a weekend.
"Ultimately they became available and handled it superbly. They flew in by helicopter. They told me to secure the ranch, which I did until this morning," he said.
Scalia was just the latest newsworthy guest to visit the celebrity hideaway that covers 30,000 acres near the Chinati Mountains. Mick Jagger, Julia Roberts and Tommy Lee Jones have also partaken of its scenic vistas and luxury accomodations.
Established in 1857 by Milton Faver, known as the first Texas cattle baron west of the Pecos, the ranch retains 19th Century constructions, including "El Fortin de Cibolo," a primitive fort designed to protect settlers from Apaches.
RELATED: Inside the West Texas ranch where Antonin Scalia was found dead
In a special guest package offered last month, rooms went for $545 to $565 a night for two people, with a meal package and ranch tour included. Other activities include hiking, horseback riding, bird-watching and ATV tours.
Scalia, who was scheduled to return to Washington on Sunday, had little time to avail himself of the ranch's offerings. Poindexter said he had only met Scalia once before briefly, in Washington. Scalia came to the ranch because he was friends another guest.
Poindexter said he knew the other guests.
"All the guests were friends of mine, I paid for all of them. There were no politics, no jurisprudence in the slightest," he said.
"This was strictly a group of friends that the judge decided to join. He was coming with his son who had to drop out for reasons I don't' know.
"It was an honor to have him. He was widely admired. There were no speeches. He wasn't asked any hard questions, it was all about the outdoors and Texas, and what it's like to being a Supreme Court Justice," he said.
RELATED: Body of Supreme Court Justice Antonin Scalia arrives in El Paso
Scalia's personal financial disclosures show no previous trips to the ranch. The disclosures, posted on OpenSecrets.Org show that the justice made several trips to Texas since 2005 to speak at colleges and universities, including St. Mary's University in 2008.
Poindexter, 71, said Scalia's sudden death was both a "personal tragedy" for those at the ranch, and for the nation.
"All of us here saw him as a stalwart defender of our way of life in Texas, in a real sense," he said.
"It's a great loss. Having made that statement, if it was his time to go, he was surrounded by friends, in fairly nice setting, with a full tummy too. He said he was very happy to be invited so it could have been in worse circumstances," he said.
"It's caused all of us here to stop and think about life, how precious it is, and how it is so unexpectedly lost," he added.
RELATED: Scalia: 'I probably would want to be a Texan'
The body of the Supreme Court justice was moved to an El Paso funeral home early Sunday.
The body was driven from Marfa and arrived around 2:30 a.m. at Sunset Funeral Homes, according to spokesman Chris Lujan.
Lujan said the funeral home was chosen by family of the justice, and at the advice of a family friend.
The El Paso County medical examiner's office said they hadn't received any information regarding the possibility of performing an autopsy.
Staff Writer David Saleh Rauf contributed to this report – jmaccormack@express-news.net
Texas sheriff's report reveals more details on Supreme Court Justice Scalia's death
By Amy Britain and Sari Horowitz
A Texas sheriff's department released an incident report late Tuesday that revealed new details of the discovery of Supreme Court Justice Antonin Scalia's body, as well as the name of the friend who accompanied him on the hunting trip and the items found inside the ranch bedroom where the justice was found.
In response to a public records request made by The Washington Post, the Presidio County Sheriff's Office released an incident report from the sheriff's investigation of Scalia's death at the Cibolo Creek Ranch on Feb. 13. The report stated that the justice's body was found in bed with a pillowcase covering his eyes. A breathing apparatus was on the table next to the bed, but it was switched off. Scalia was lying on three pillows "stacked up to elevate his head."
[Read the incident report here]
Scalia's sheets and pillows "were still in the creased position from that day's room service, indicating that there was no struggle involved," the report said. The top pillowcase "appeared to have shifted at some point in the night due to the weight of his pillow, causing the pillow case to slide down and cover his eyes."
The sheriff noted that the position of the pillow "did not seem to have inhibited Scalia's breathing."